Enjoy some excellent questions and answer regarding the state of the housing market here in Central Ohio in early 2016. The answers cite various news reports, are geared toward a younger generation of first-time home buyers, and explain why, while some of these market dynamics are new, some things never change:
Why did the Federal Reserve move to raise the Fed Funds rate in January? This benchmark rate of interest has been at or near zero for almost a decade - there hasn't been an increase since 2006 and The Federal Reserve saw two economic indicators raise recently: workforce participation and wages. More people are working and making better money, or as Berkshire Hathaway HomeServices President Stephen Phillips says, "The Fed is seeing more people going back to work, and with the expectation of job growth for America it feels comfortable with its intent to raise rates." http://goo.gl/20m8jL Stephan Stanley Chief Economist of Amherst Pierpont Securities says, "Demand for housing is still good. More people are working and they're starting to get paid a little more too, balance sheets are very clean, and people are feeling a little better about the overall environment." http://goo.gl/lJAV32
Should I be worried about losing an opportunity to get a low mortgage? Mr, Phillips continues on why worry is understandable but unfounded:
"...the reality is that an entire generation of first-time buyers has never experienced a meaningful rate increase. This is a new and unfamiliar phenomenon to them."
CNBC explains that, "An increase from the current 4 percent on the 30-year fixed to 4.25 percent on a loans ranging from $200,000 to $300,000 would amount to less than the average borrower probably spends at Starbucks every month. Still, a majority of respondents to the Berkshire survey, which was mostly millennials and Gen Xers, said rising mortgage rates would make them "anxious" about their current financial situations." http://goo.gl/PhpTZ5 
Why are mortgage rates not rising as fast as predicted? It boils down to Supply and Demand. Here, watch this quick video
Just how many homes are for sale in Columbus? New Homes? This past November, 1,845 homes changed hands in Central Ohio and during the same time 300 permits were taken out for new home construction in Columbus alone. This is definitely up over 2014, but analysts worry that more buyers are coming online (including first-time buyers who did not buy in 2006-2014) than builders could possibly ramp up construction to accomodate. 
What is the historical context? Let's look back to 2005 before the Great Recession: In November 2005, 1,899 homes changed hands but 680 permits were taken out in the respective areas. There are less builders, developed lots, tradesmen and tradeswomen, architects, etc. today than way back in 2005.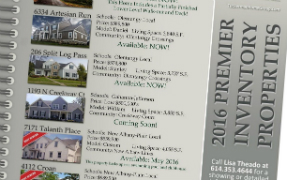 Why don't builders just build more homes? In short, we are. But there has been reluctance until now to get too far ahead of the economic recovery. From Steve Blitz, Chief Economist of ITG Market Research, "Builders are in a unique spot, rather than seeing the world through statistics, they're on the ground, so to speak. They see traffic and interest in buying and that gives them a much better and earlier read on the economy than we get from the numbers." That "traffic and interest" may carry a lot more weight when the product up for sale is a house, rather than a carton of milk, Blitz pointed out. Blitz thinks it's most important to focus on sales, rather than home building activity, which is expressed through the housing starts data compiled by the Commerce Department. "Sales drives homebuilding," rather than the other way around, he said. http://goo.gl/GN6hYA
Has there been any changes to the mortgage industry other than this rate hike? Yes! A number of changes has occurred very recently. A big one is the length of time it takes to close on a home, as explained by one of The Tuckerman Home Group's preferred lenders in a recent Columbus Dispatch article: "Natalie Moore, a loan officer with Home Savings & Loan in Worthington and president of the Columbus Mortgage Bankers Association, agreed that loans are taking longer to close — 45 to 60 days instead of the previous 30 days. But she said closings are not being derailed because many agents are now writing contracts that stay in effect for 45 or 60 days.
"Since the majority of the good business partners we use are adhering to this, we're not really seeing delays at this point," she said. "That's not to say you might not see that in the coming months." http://goo.gl/xmHZmH
Are you interested in working with a builder on the cutting edge? Do not hesitate to contact Lisa Theado at 614-353-4644 with questions or to schedule a showing on one of our prebuilt custom homes. This inventory is a most valuable resource in the ever-popular communities of New Albany, Gahanna, and Lewis Center. We can report 'from the ground,' traffic, interest, showings and sales that point to a very busy Spring!
Good luck out there, read up on the market news cited in this blog below, and schedule yourself a guided tour at one of our fantastic properties.
Our Reputation Lives With Your Home!
Sources