Shannon Gilchrist of the Columbus Dispatch lays out the results of last night's school board levy votes in not just the Olentangy Local School District but also Delaware City, Newark City, Amanda Clearcreek, Walnut Township, and Jonathan Alder schools. We are most interested in the investments made in the Olentangy Local District because it is the district that two of our newest listings would make the bus ride to.
It is unclear, as of March 16, 2016 whether or not the new high school would be the assigned high school for 6330 Artesian Run and 6334 Artesian Run or when the new high school will be completed. Enjoy the entire article below: 
By Shannon Gilchrist
The Columbus Dispatch • Wednesday March 16, 2016 12:37 AM

Voters in Olentangy Local Schools in Delaware County said yes to a new high school, but the vote for Licking Heights schools, also aiming for a new high school, wasn't looking as rosy.
Olentangy district residents were voting on a combined issue featuring three parts: a 5.9-mill permanent operating levy, a 1-mill permanent improvement levy and a no-new-millage bond issue to build a fourth high school. In final, unofficial returns, the measure passed with 58 percent of the vote.
Olentangy Superintendent Mark Raiff said the numbers trended well all night.
"I greatly appreciate the community support," he said. "This levy was crucial to our success. ... I keep telling people I'm looking forward to Olentangy writing the next chapter of our great story."
Olentangy will issue bonds for $79.6 million, which should cover the $69.6 million construction of the high school in Berlin Township, the $2.2 million purchase of the building in which the district's Olentangy Academy is located, and $7.8 million to buy buses and fix roofs. The district plans to break ground on the high school this summer to be open in time for the 2018-19 school year.
The operating levy will be used to pay for additional teachers, utilities and supplies. The improvement levy will go to maintain facilities.
A loss would have meant cutbacks. The district's three high schools are greatly over capacity, especially Olentangy Liberty, which is 400 students above capacity.
At midnight, with all Licking County precincts counted and 5 of 11 Franklin County precincts counted, Licking Heights' combined 1-mill bond issue and 0.75 percent permanent income tax was losing 68 percent to 32 percent. Early on, with 55 percent of the student population in Franklin County and few of those precincts counted, Superintendent Philip Wagner, held out hope for the levy but feared the worst.
"What I'm most concerned about is what this means for the students and the staff," he said. "We have so many challenges with facilities."
He said there will be a discussion with the board about what to do about overcrowding and trying for another levy in November.
The bond issue was to fund construction of a new high school to replace the old one, which is about 300 students over capacity. The district has been using 12 modular classrooms to deal with its boom, from 2,484 students in 2005-06 to 4,063 students in 2015-16. It is hoping to resolve that situation, and it would use the old high school building as a middle school.
Cuts definitely would occur without the extra funding, Treasurer Nick Roberts said in February, and the district likely will have to return to voters this year with a higher millage levy.
In other levy races in the region:
Voters in Delaware City Schools passed an 8.44-mill permanent levy, which is a substitute for an existing emergency levy.
Voters in Newark City Schools passed a five-year renewal of the district's 1 percent income tax.

For Amanda-Clearcreek schools in Fairfield County, with 7 of 8 precincts reporting, 57 percent of voters were rejecting a five-year renewal of a 1.5 percent income tax.

In Fairfield County's Walnut Township schools, with only 20 percent of the vote in, 60 percent of voters were rejecting a 1.7-mill levy renewal.

For Jonathan Alder schools near Plain City, with 100 percent of the vote in, 64 percent of voters approved a 10-year, 0.75 percent income tax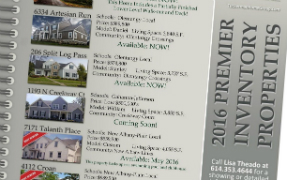 Are you interested in working with a builder on the cutting edge? Do not hesitate to contact Lisa Theado at 614-353-4644 with questions or to schedule a showing on one of our prebuilt custom homes. This inventory is a most valuable resource in the ever-popular communities of New Albany, Gahanna, and Lewis Center. We can report 'from the ground,' traffic, interest, showings and sales that point to a very busy Spring!
Good luck out there, read up on the market news cited in this blog below, and schedule yourself a guided tour at one of our fantastic properties.
Our Reputation Lives With Your Home!